BRUCE & MERRILEES A "BEST PLACE TO WORK" FOR 5TH CONSECUTIVE YEAR
Pittsburgh Business Times names B&M to 2017 list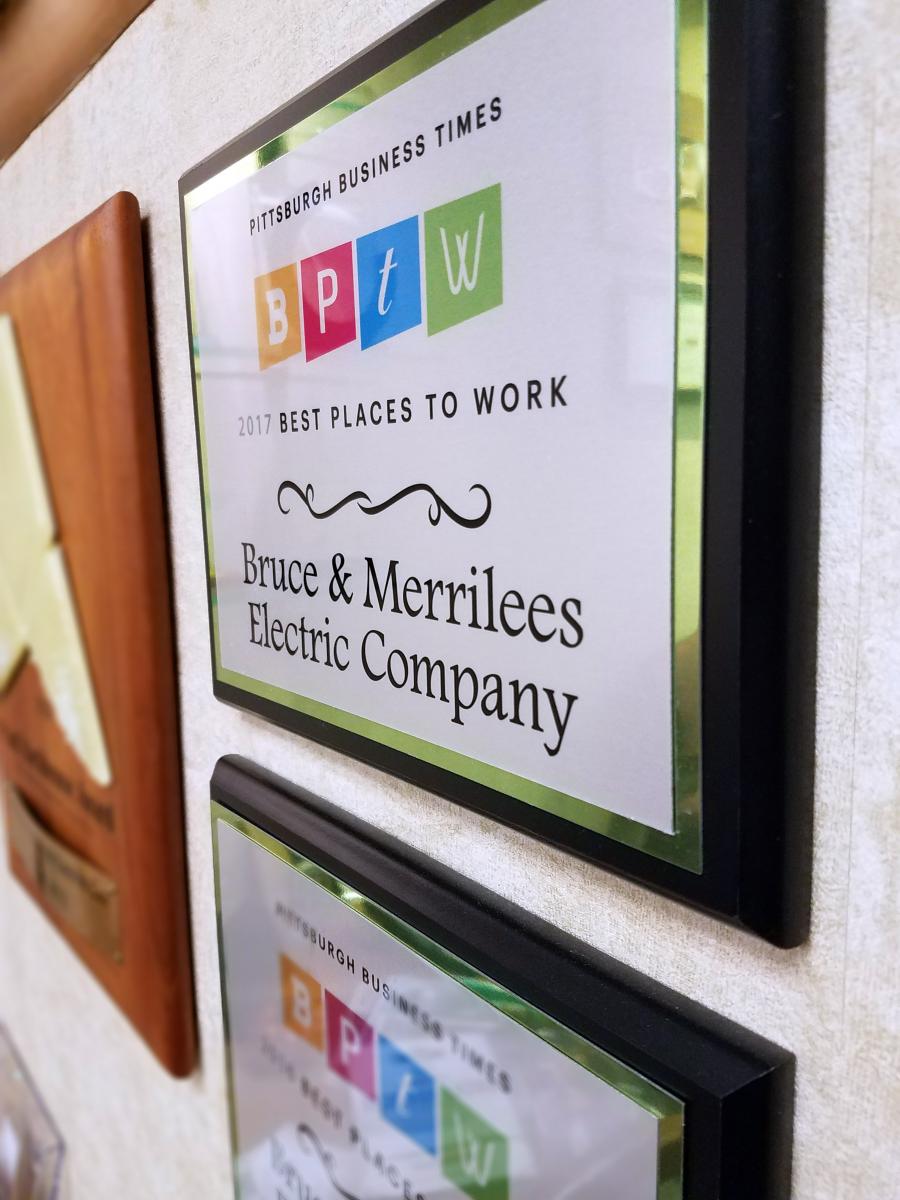 NEW CASTLE, Pa. – For the fifth year in a row, the Pittsburgh Business Times has named Bruce & Merrilees one of the "Best Places to Work in Western Pennsylvania." The company appears on the 2017 list as it has every year since 2013. 
"I am proud of our team and its ability to work together to achieve this accomplishment," said Jay Bruce, President and CEO. "The commitment, passion, skill level, and dedication of the entire Bruce & Merrilees team is evident throughout the work we do." 
Bruce & Merrilees is an electrical construction & services firm headquartered in New Castle, Pennsylvania, with branch offices in Pittsburgh and Bethlehem, PA, Columbus and Steubenville, OH, and Abingdon, MD. The company falls into the Times' "Large Company" category, employing between 50 and 149 people, and is one of 16 large companies were named to this year's list. 
In the anonymous survey, Bruce & Merrilees team members listed the company's commitment to safe work as one of its greatest assets. A family atmosphere also ranked highly; as one commenter wrote, "It's a great place to work. You are treated like family, not just a number." 
"We live our values and culture every day: a true family business of inclusion and innovation," said Jane Allen, Director of Human Resources. "Our team is working on some of the most advanced projects in the region: the progressive design-build project to alleviate traffic-congestion on I-270 in Maryland and large utility-scale substations which will improve and secure the electric grid from Pennsylvania to Texas." 
Bruce & Merrilees is always looking to add talented, dedicated individuals to the team. A list of the company's current employment opportunities is available here. 
# # #